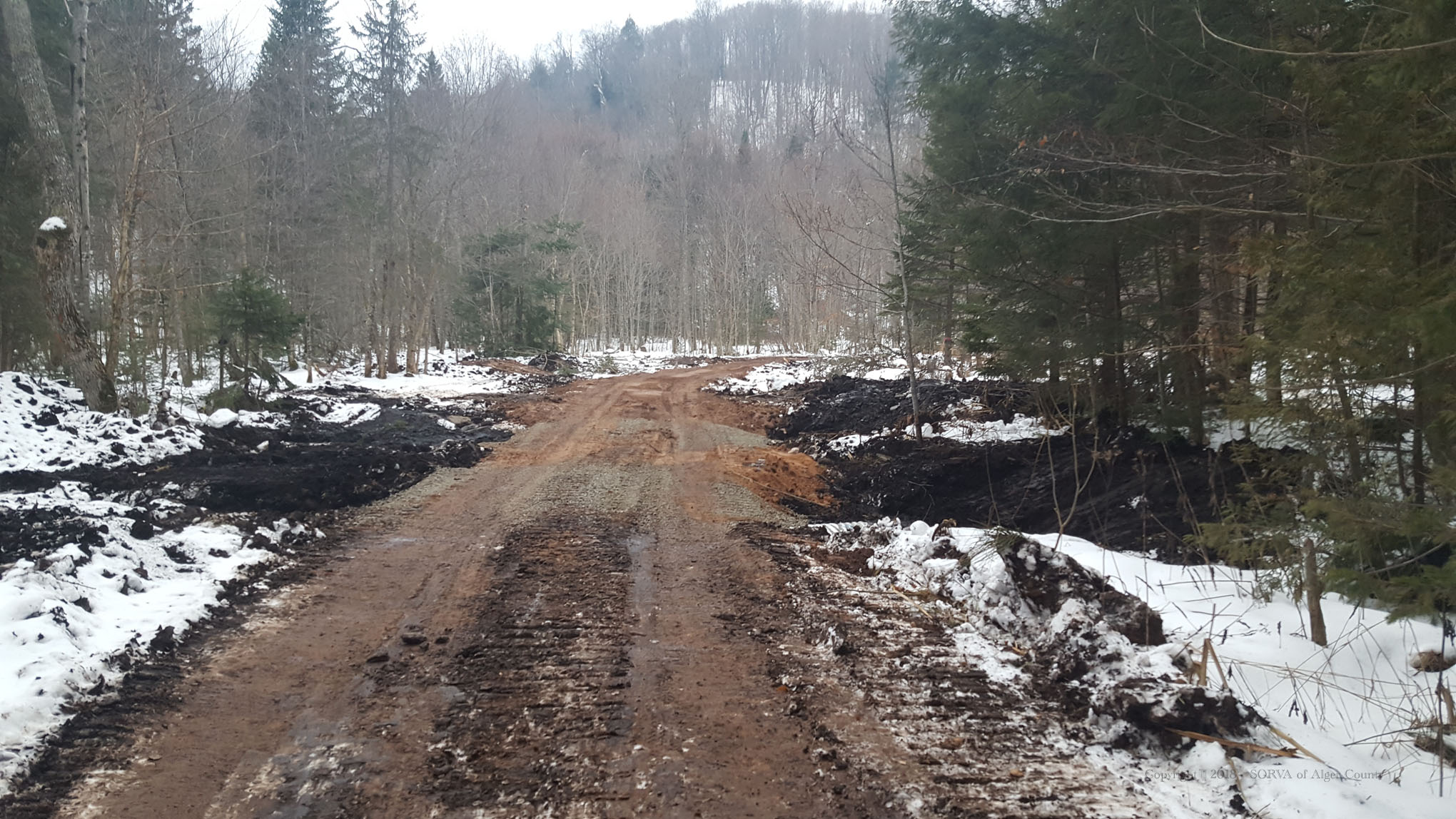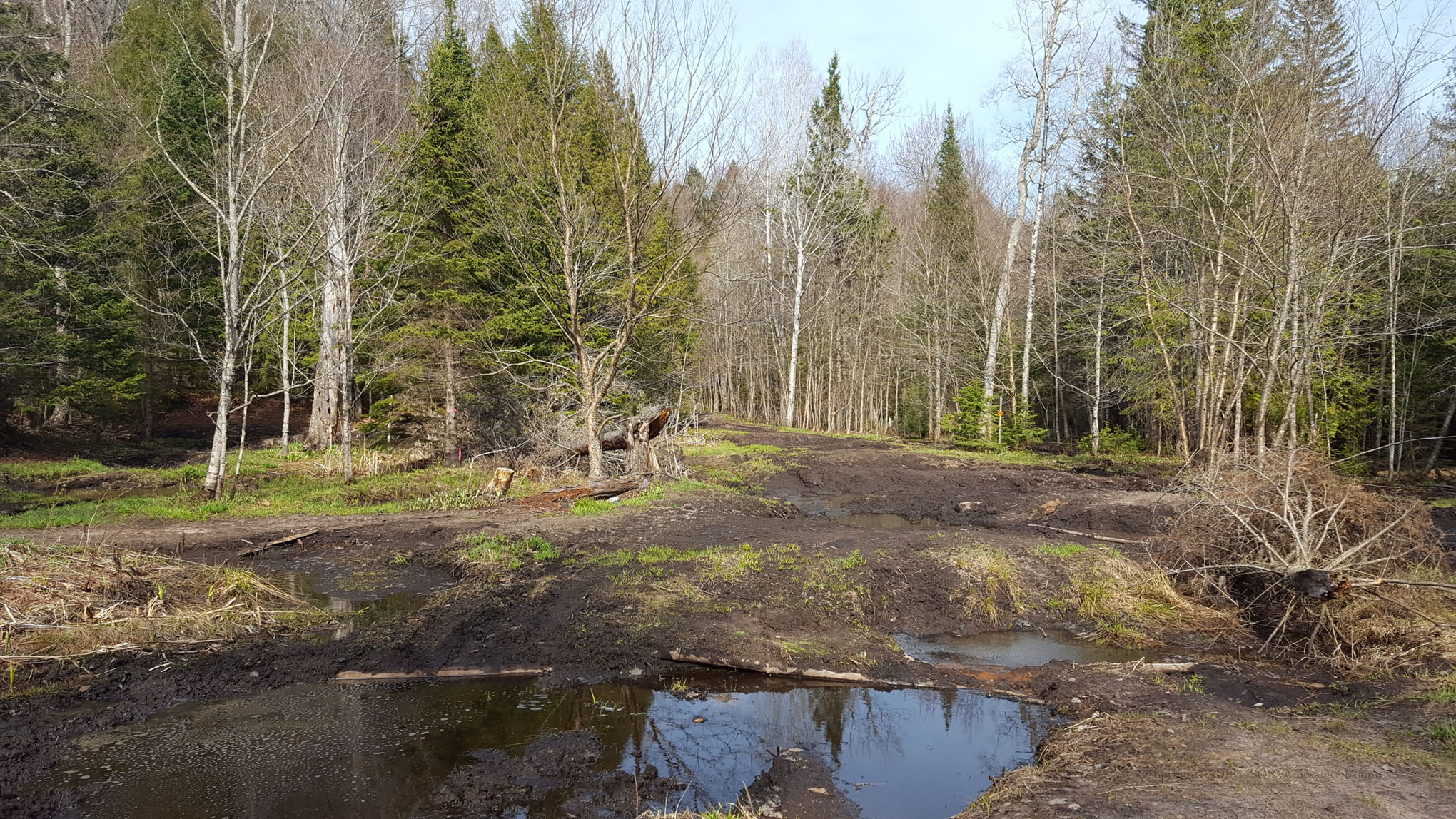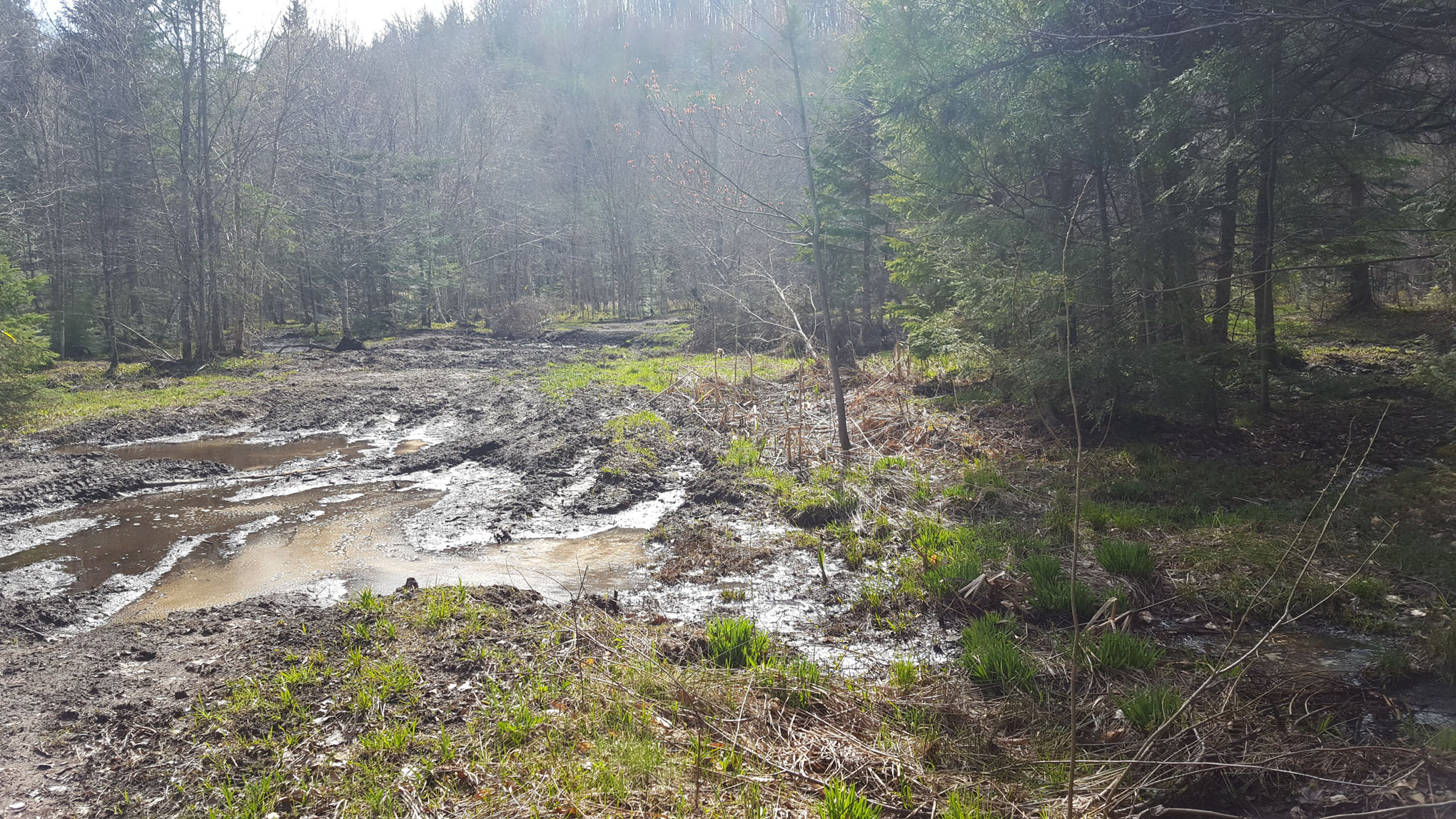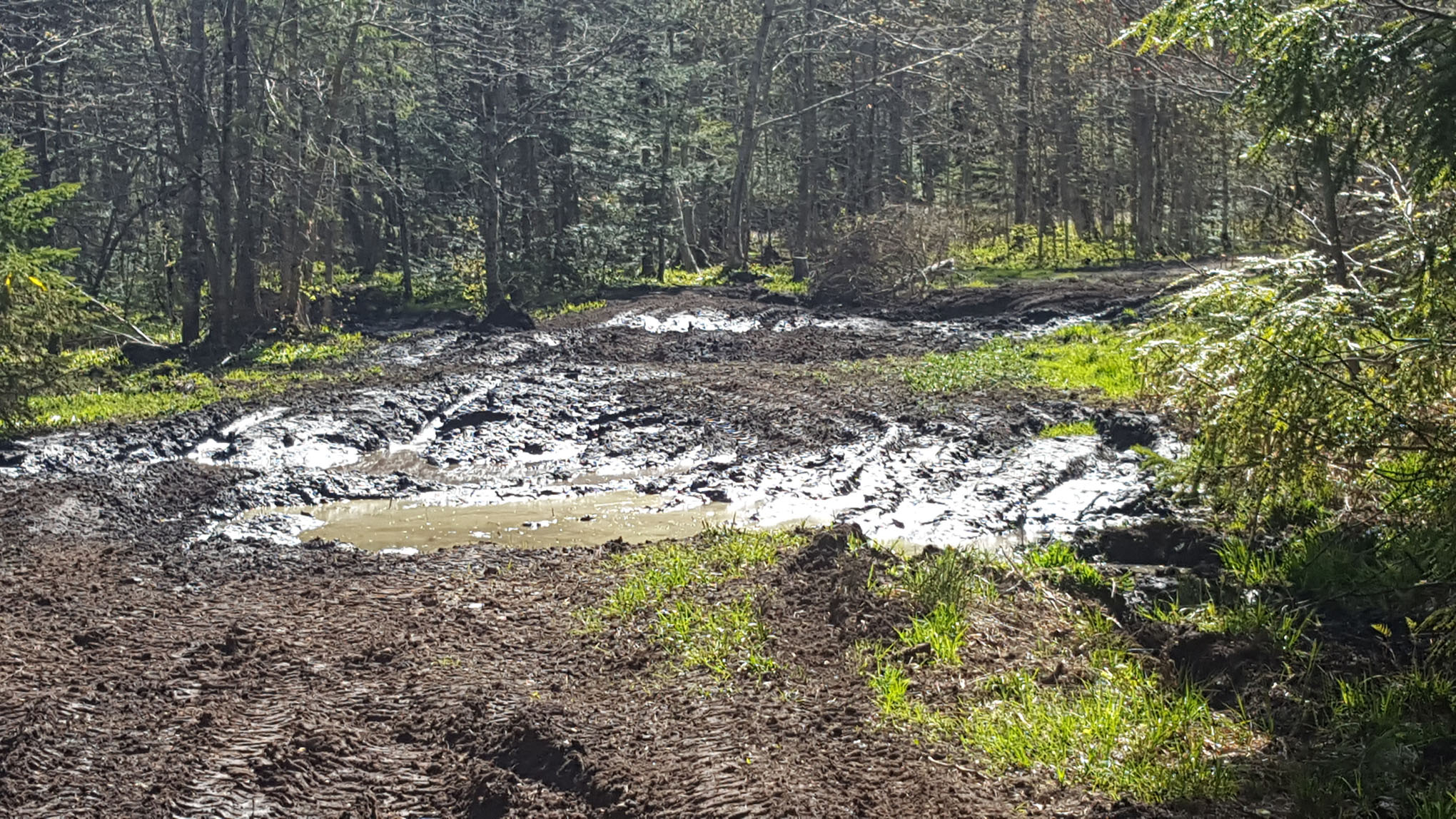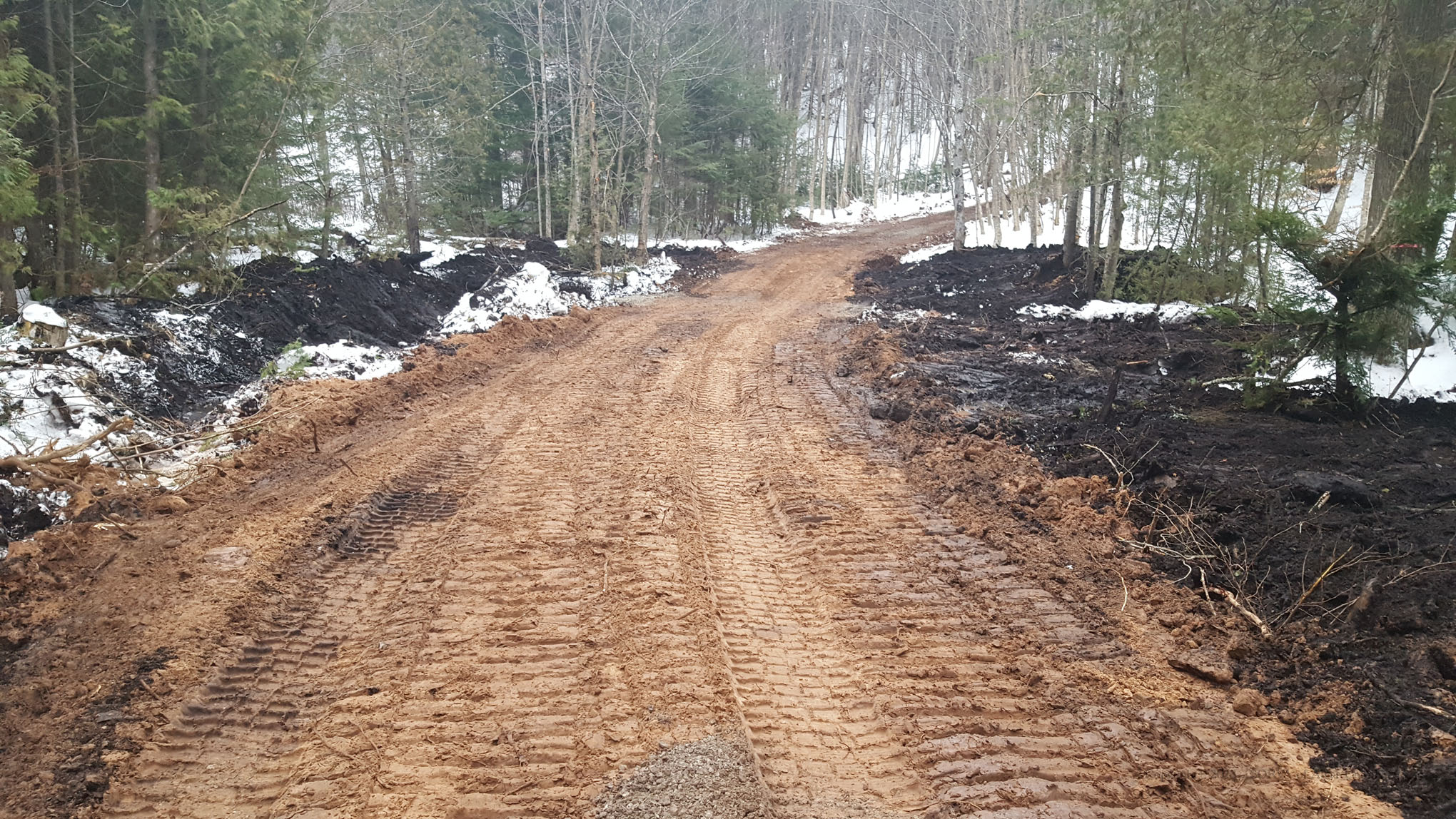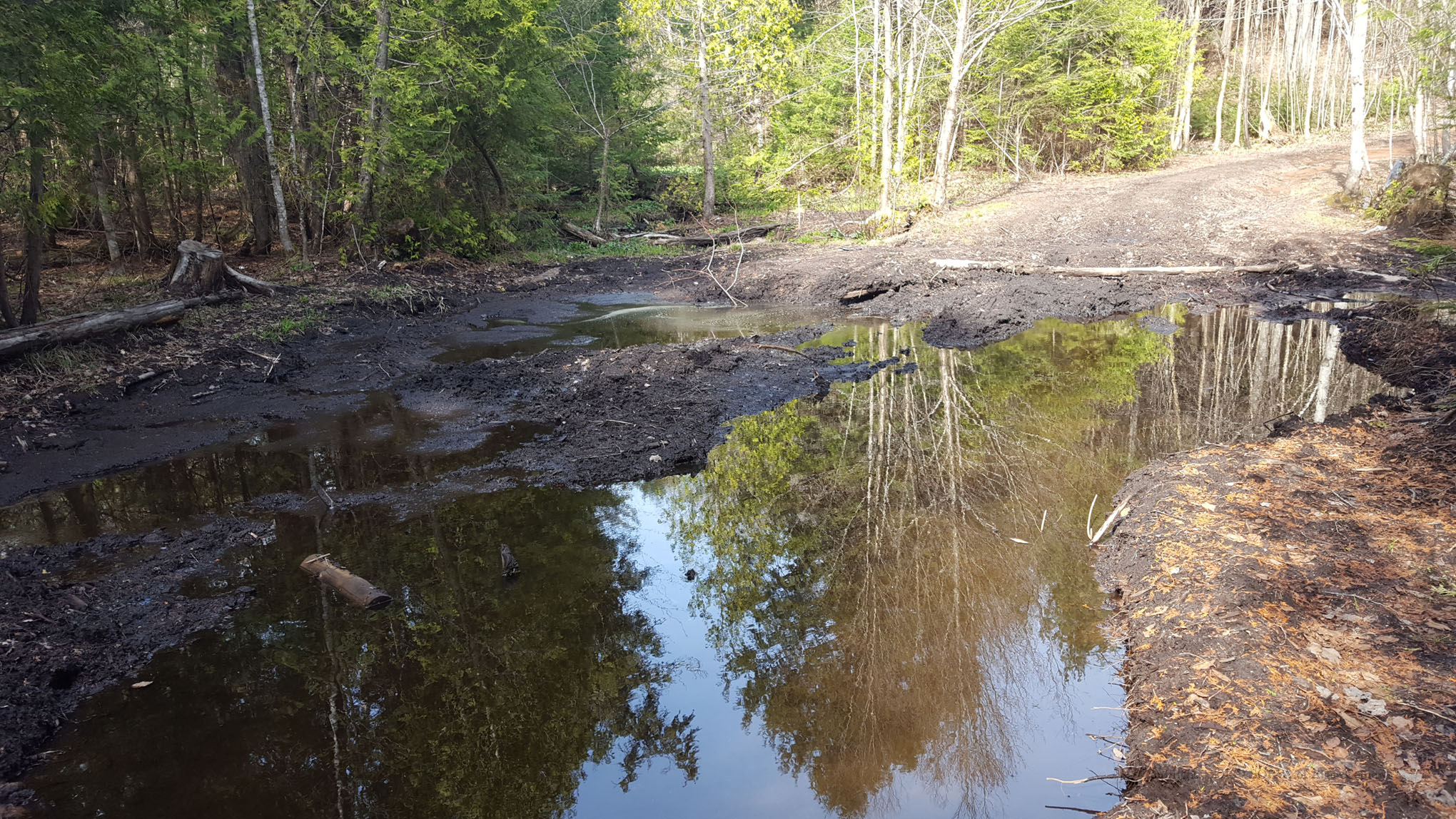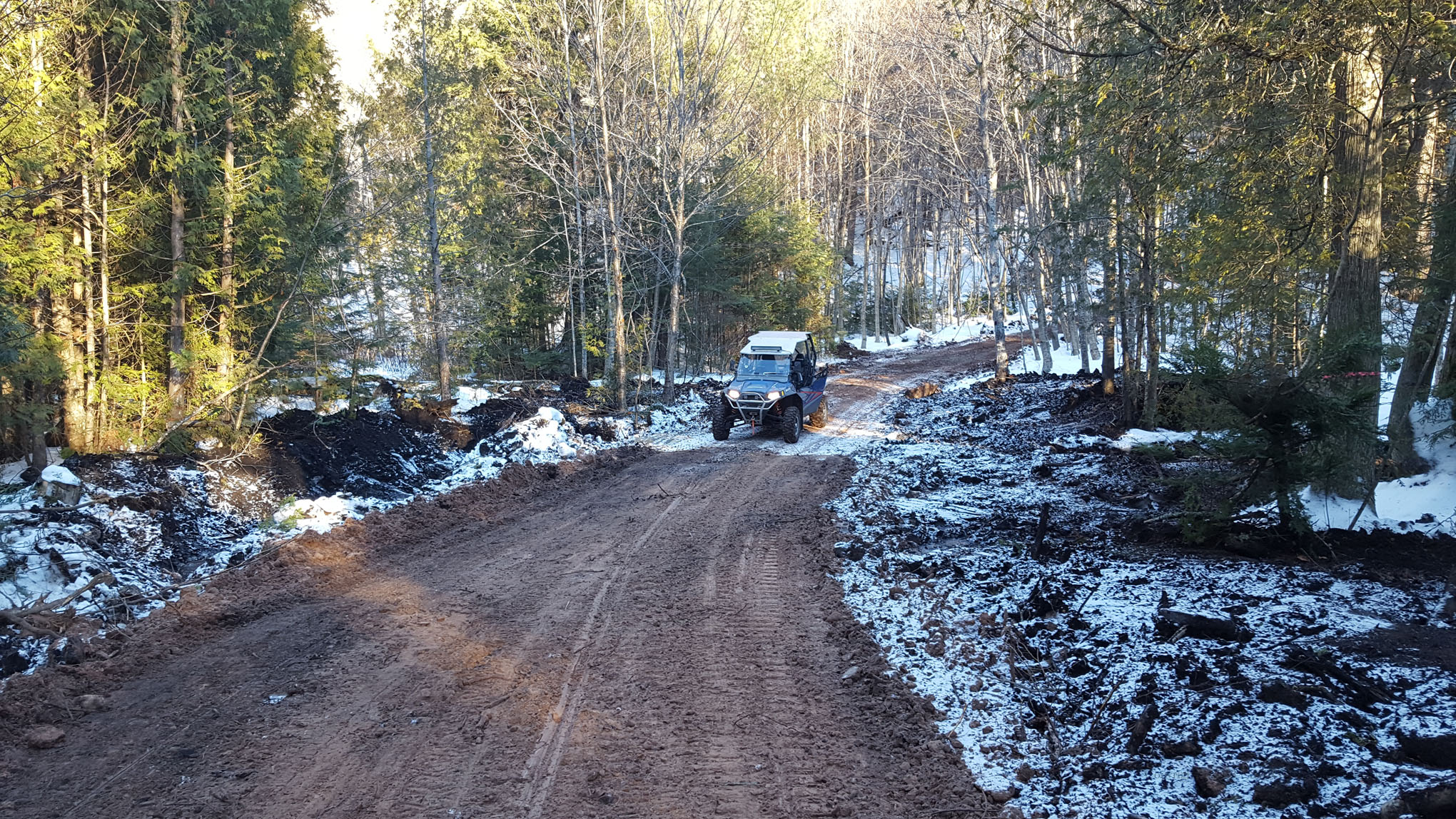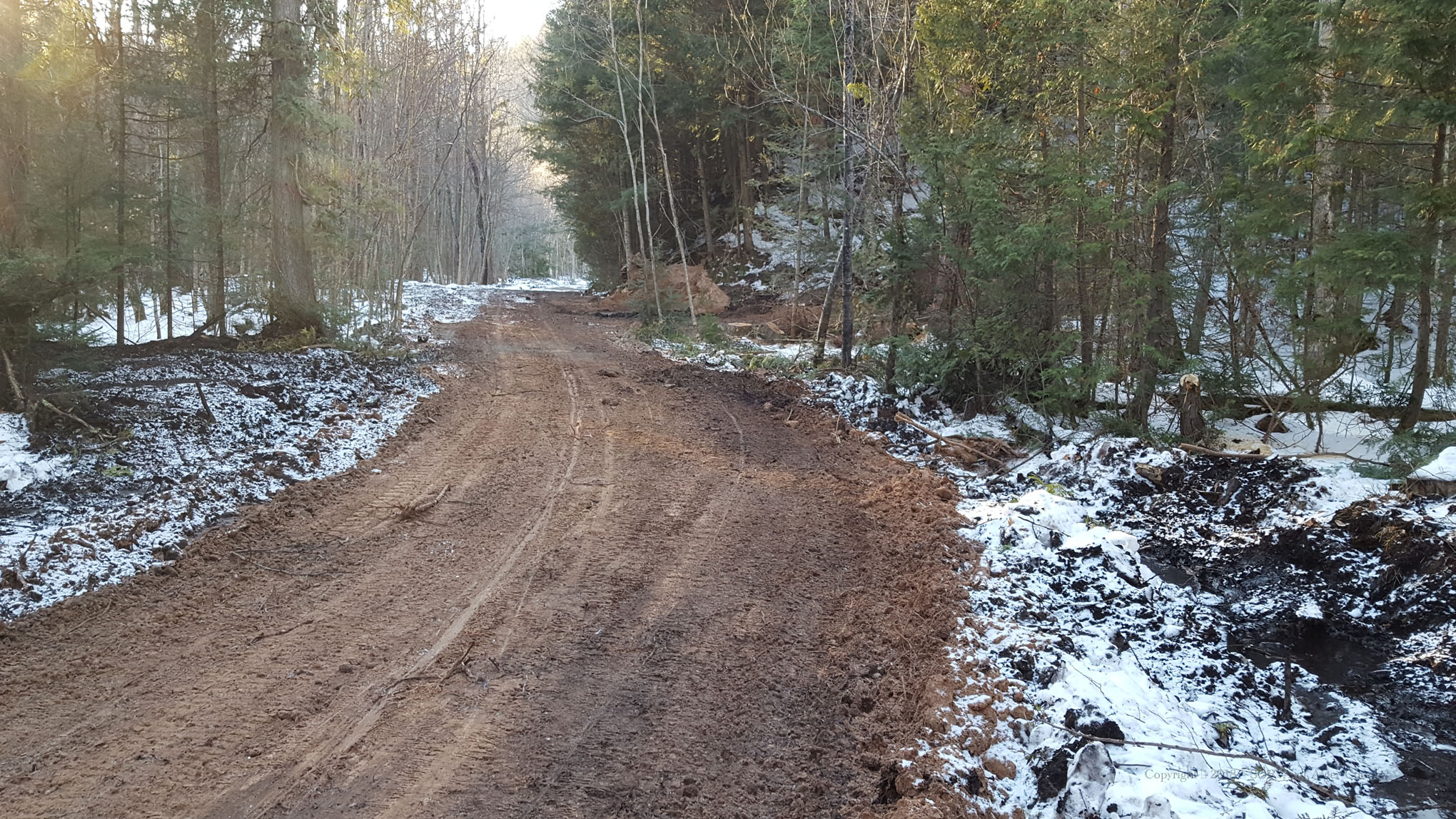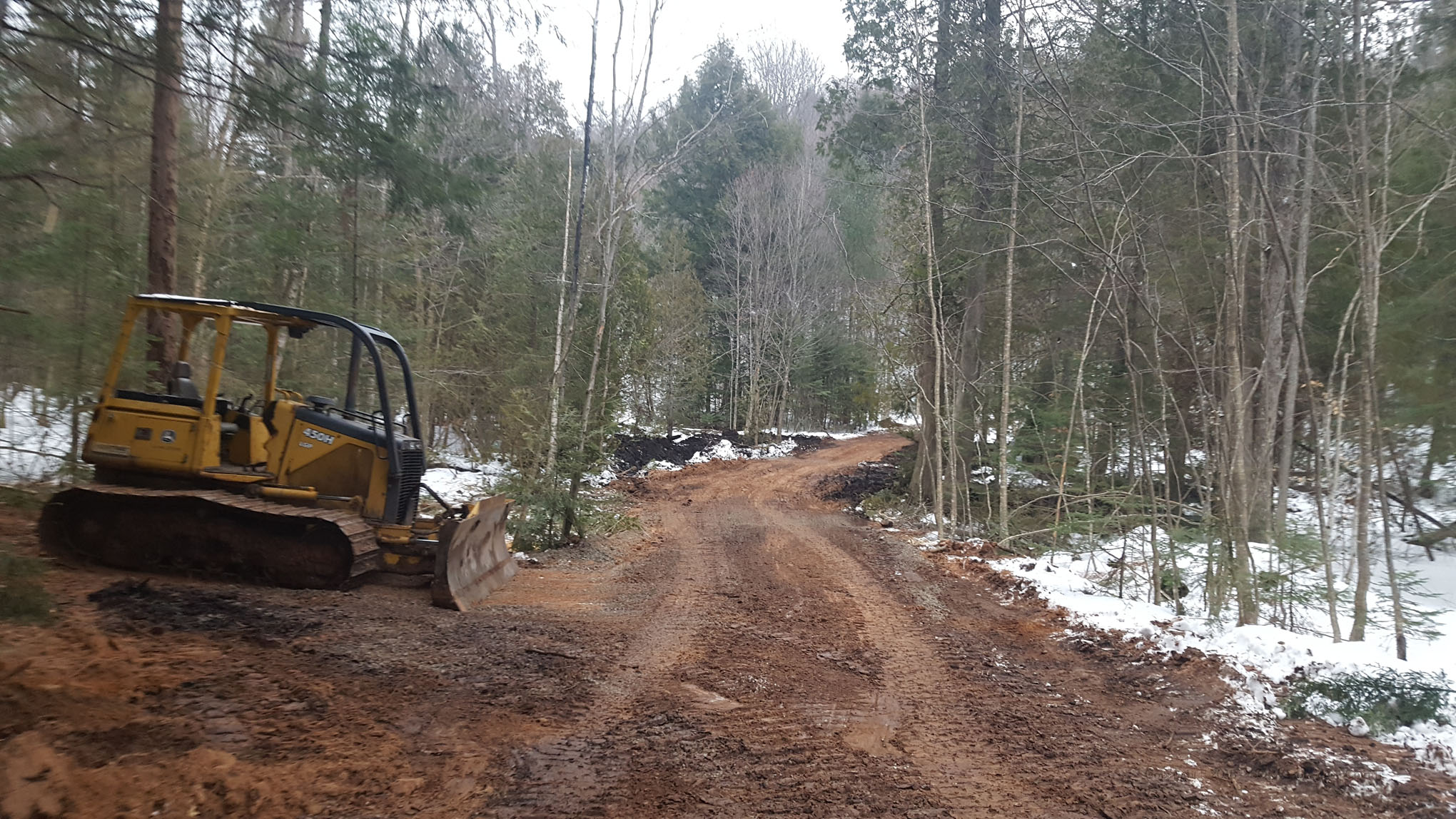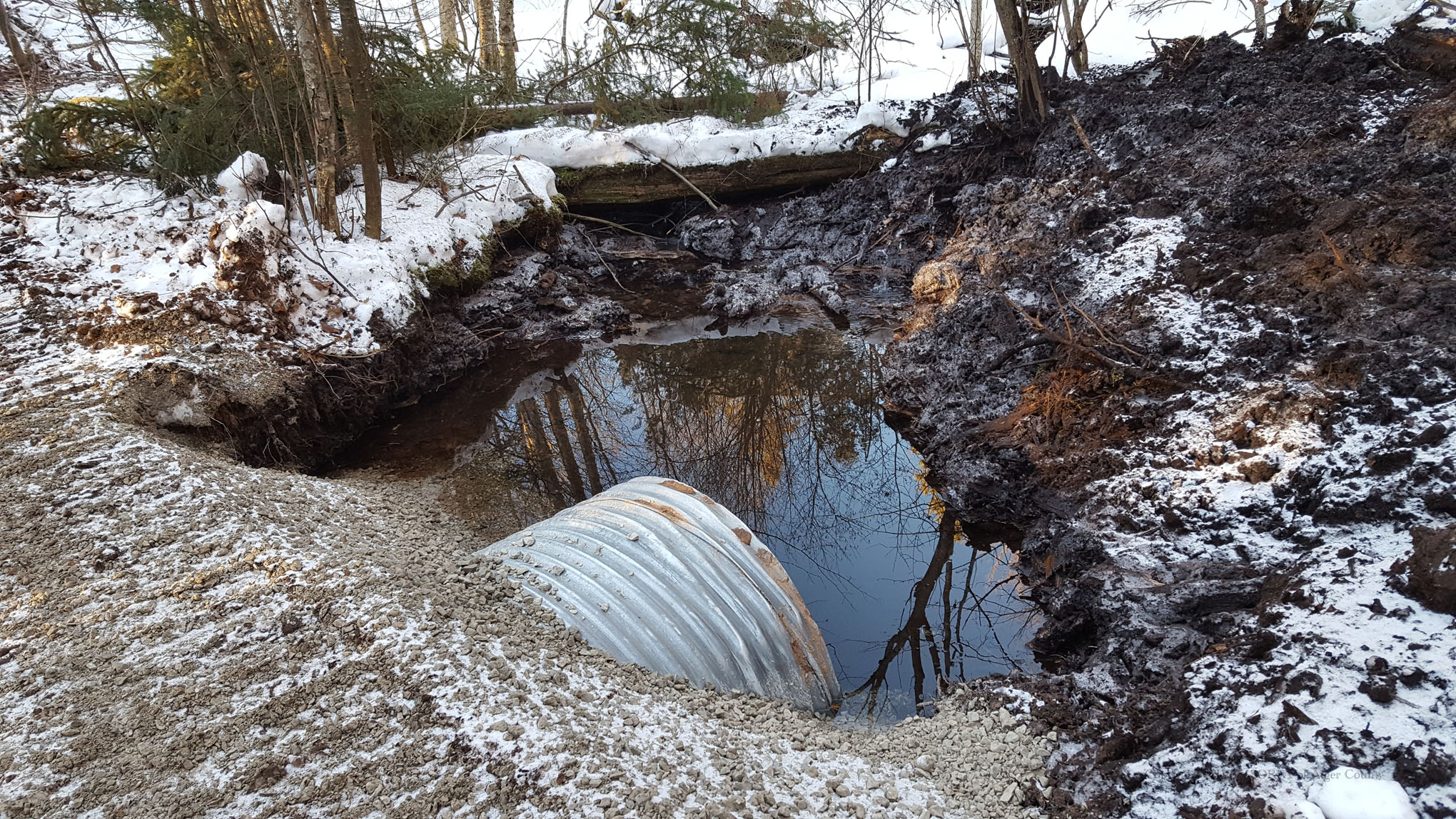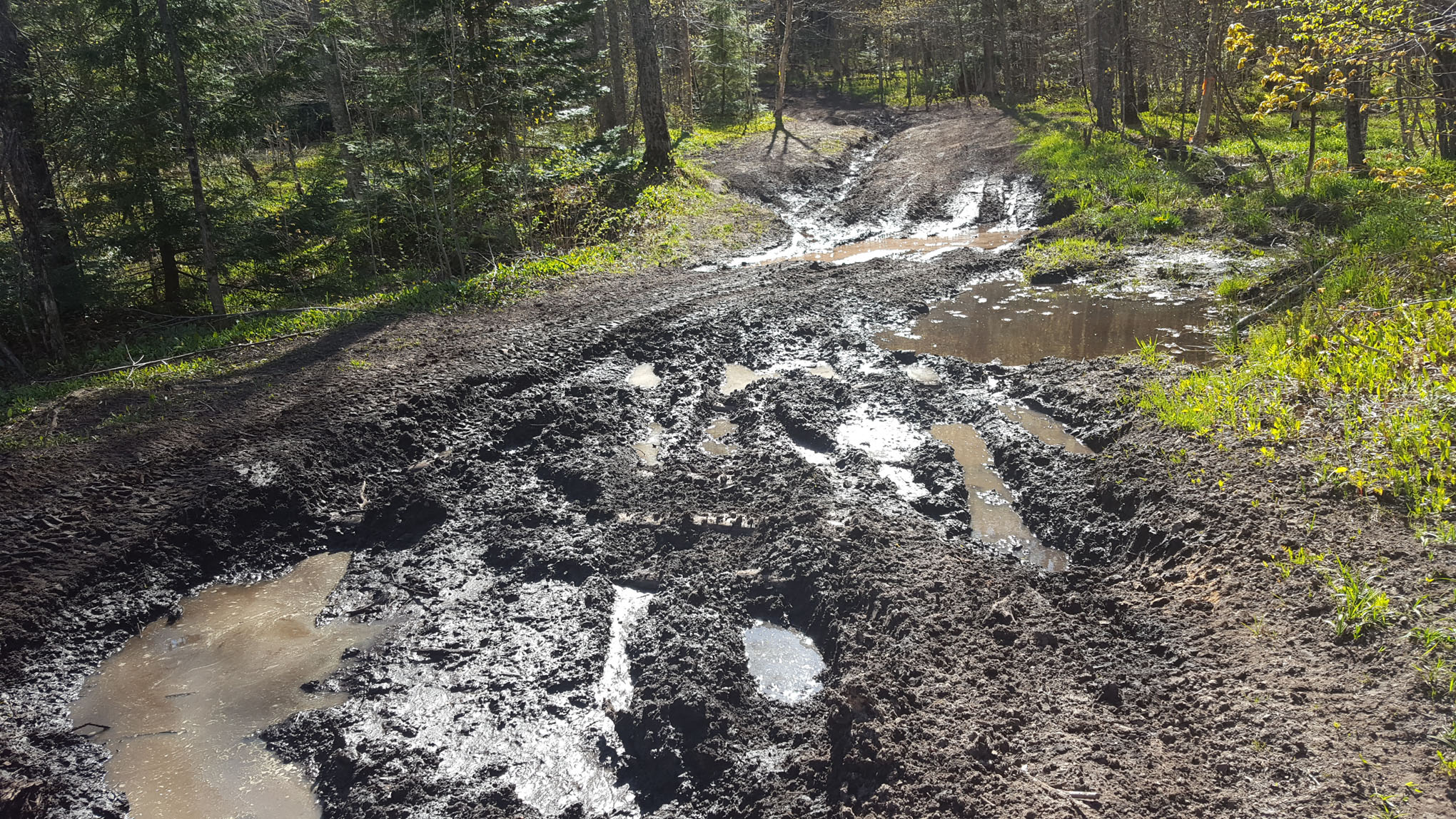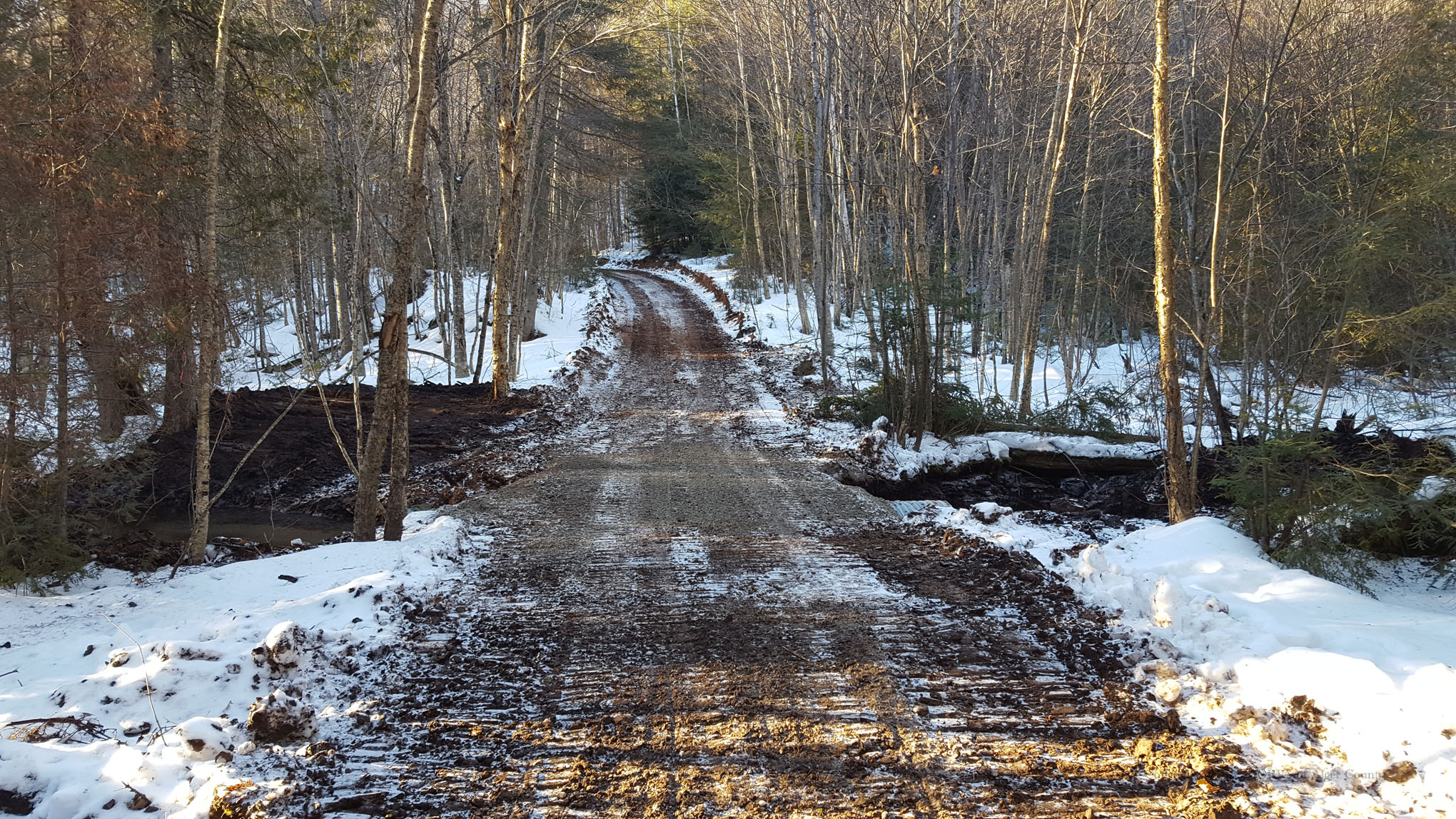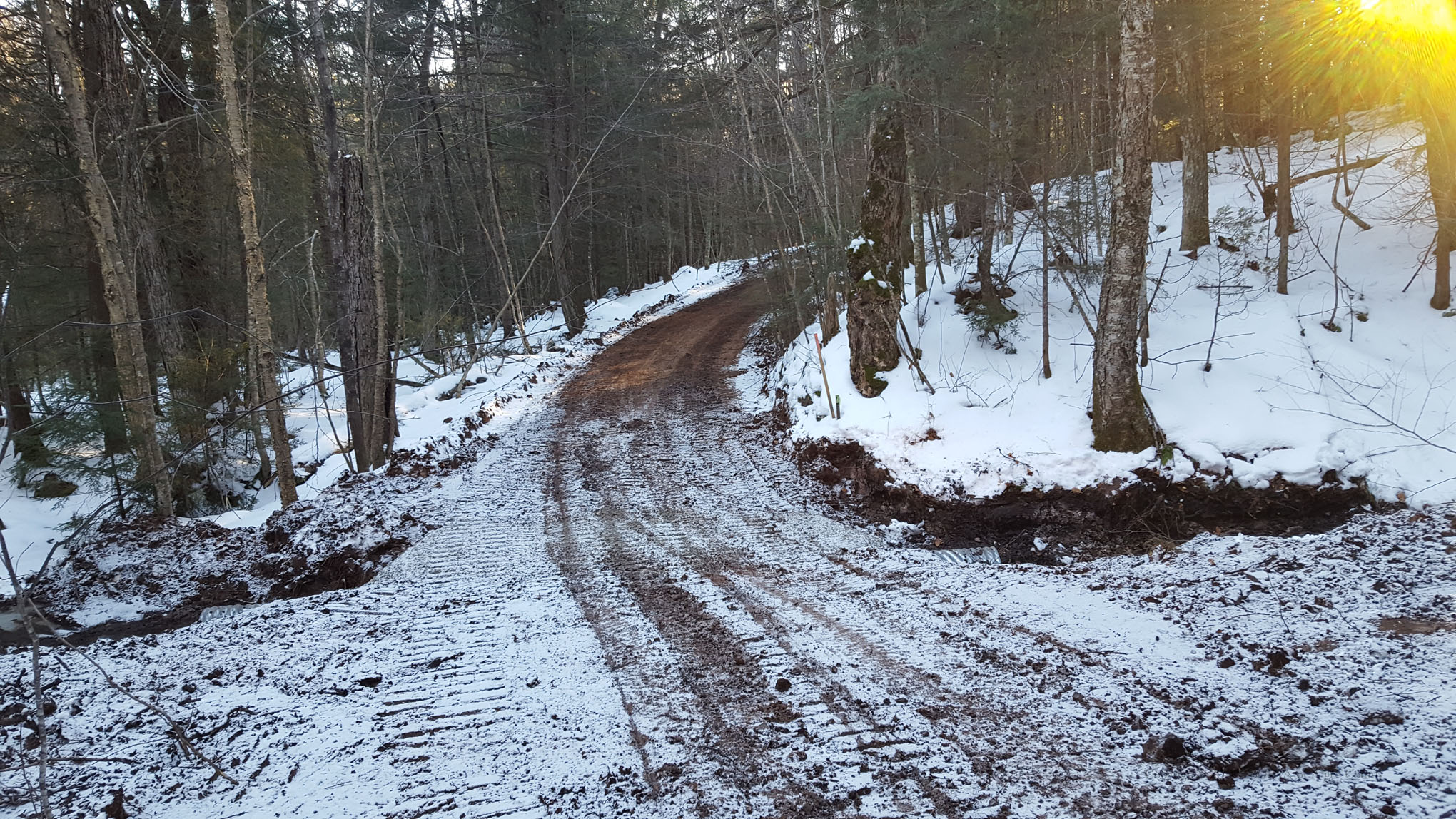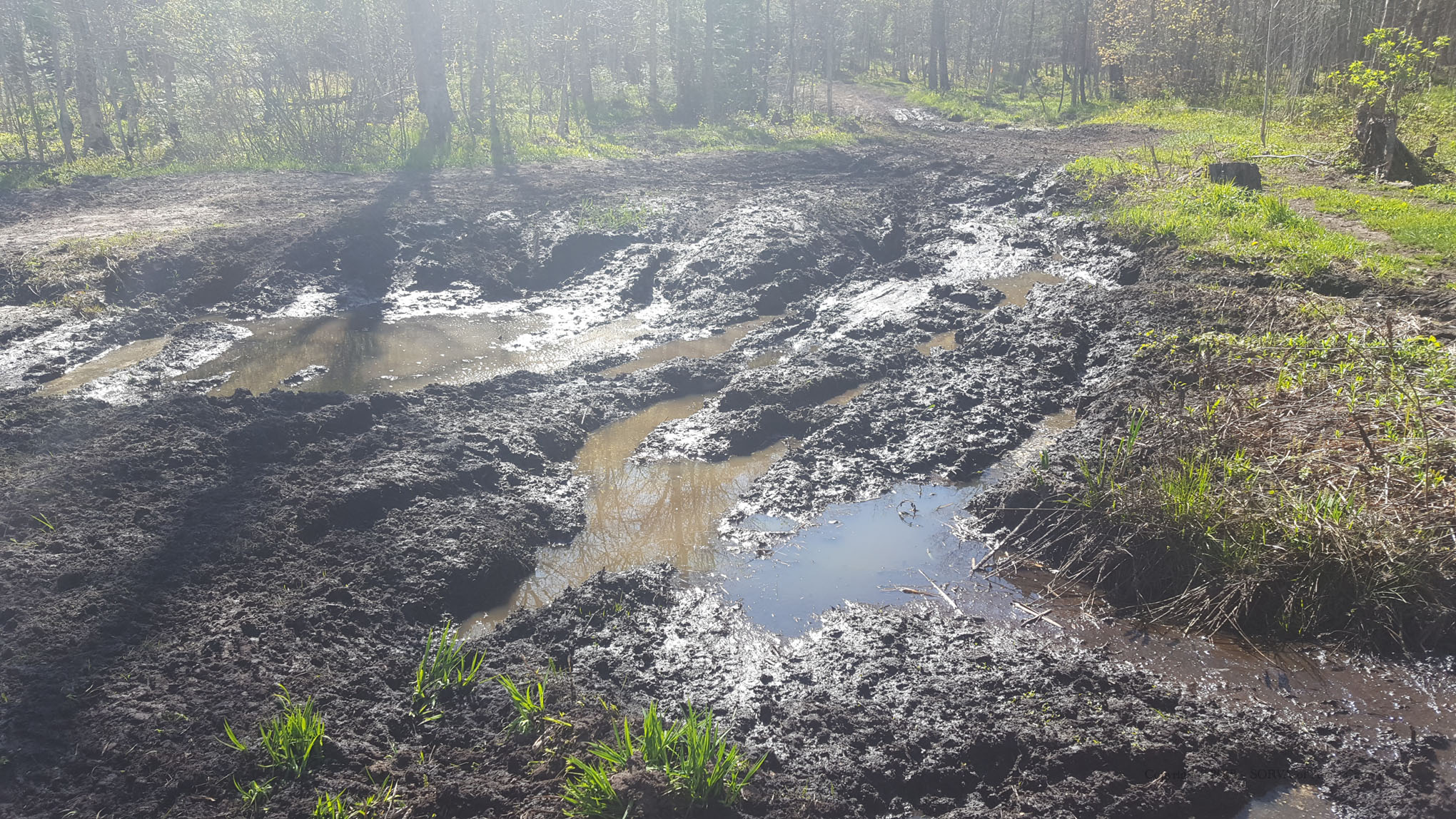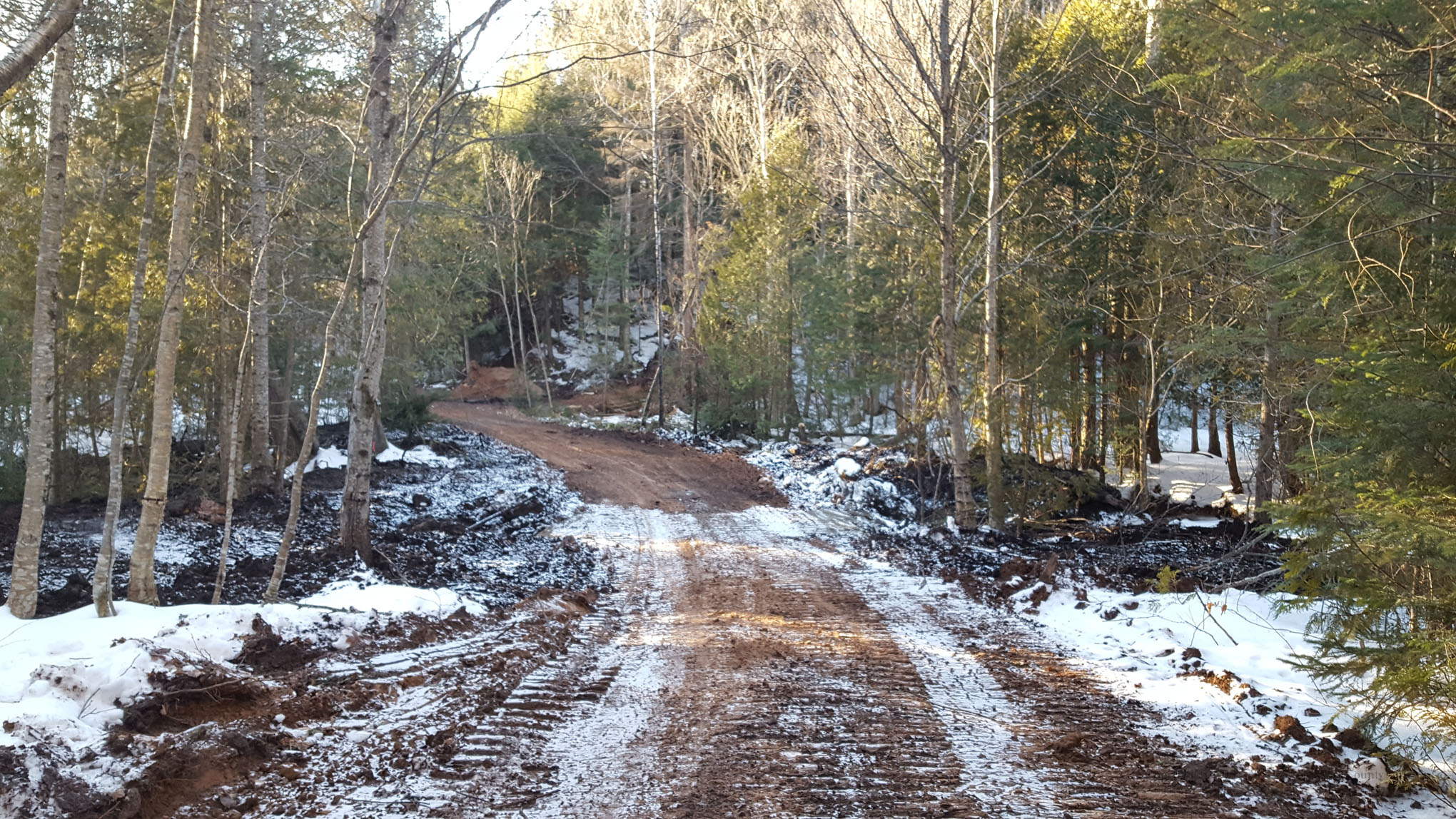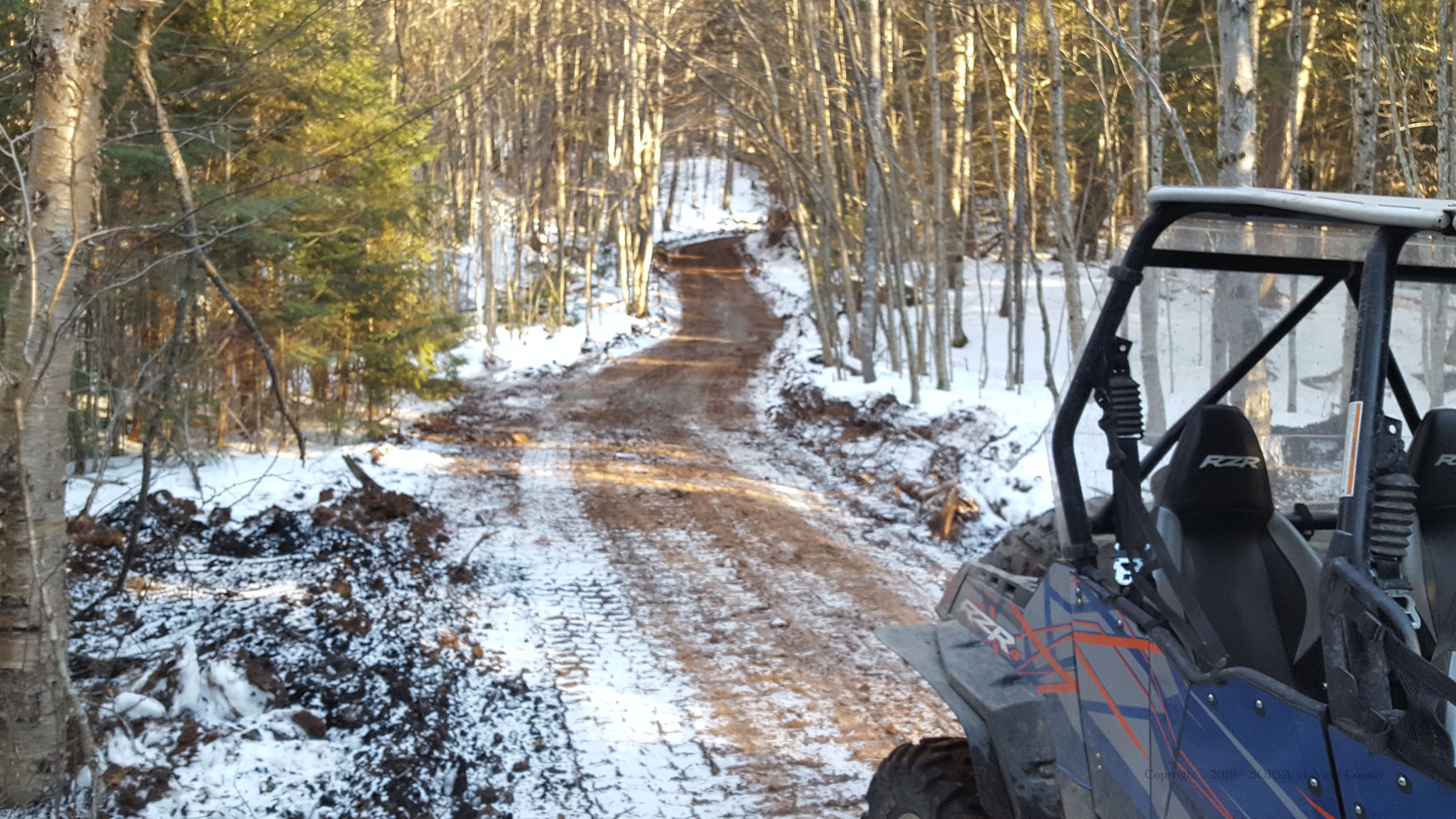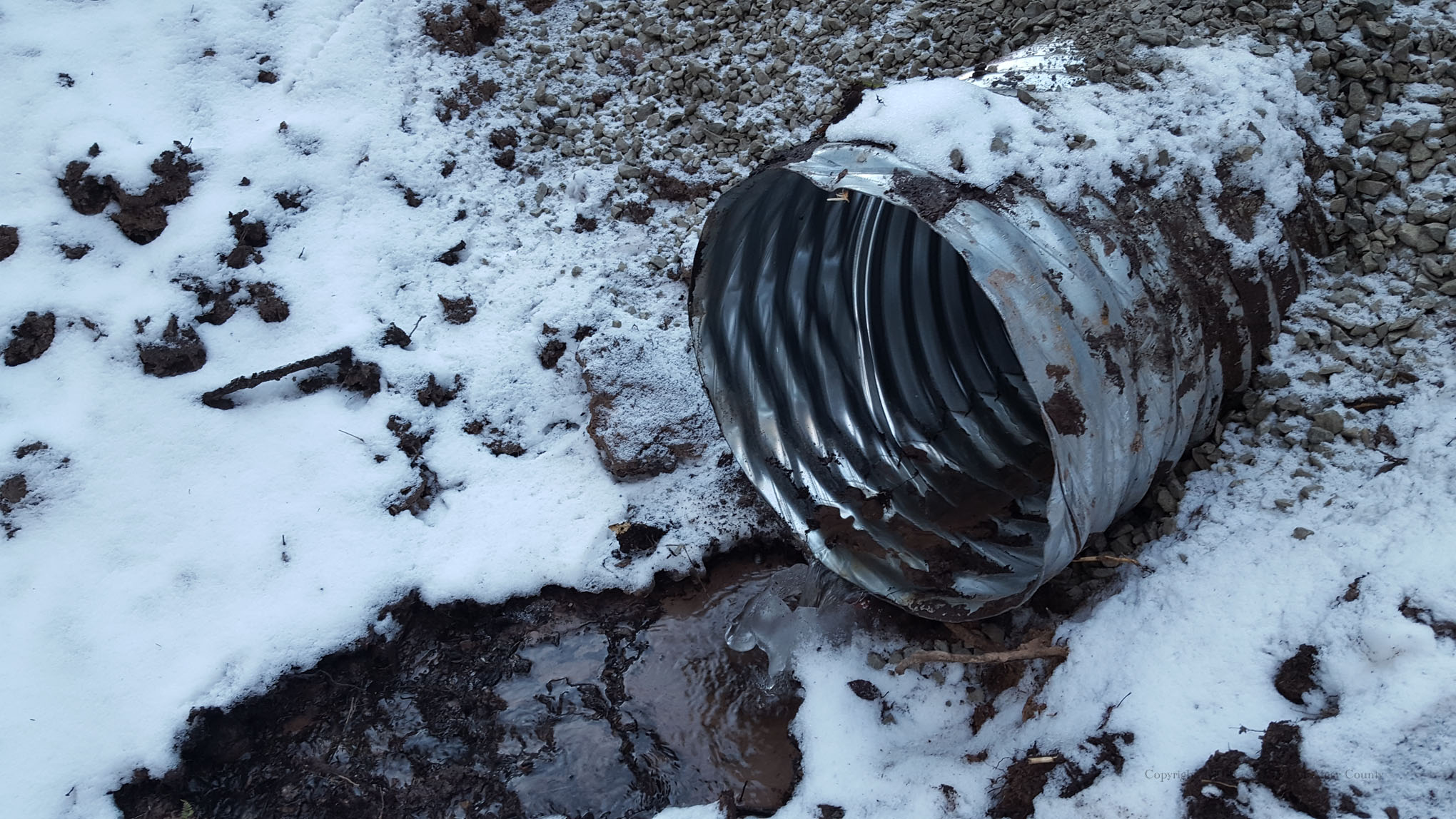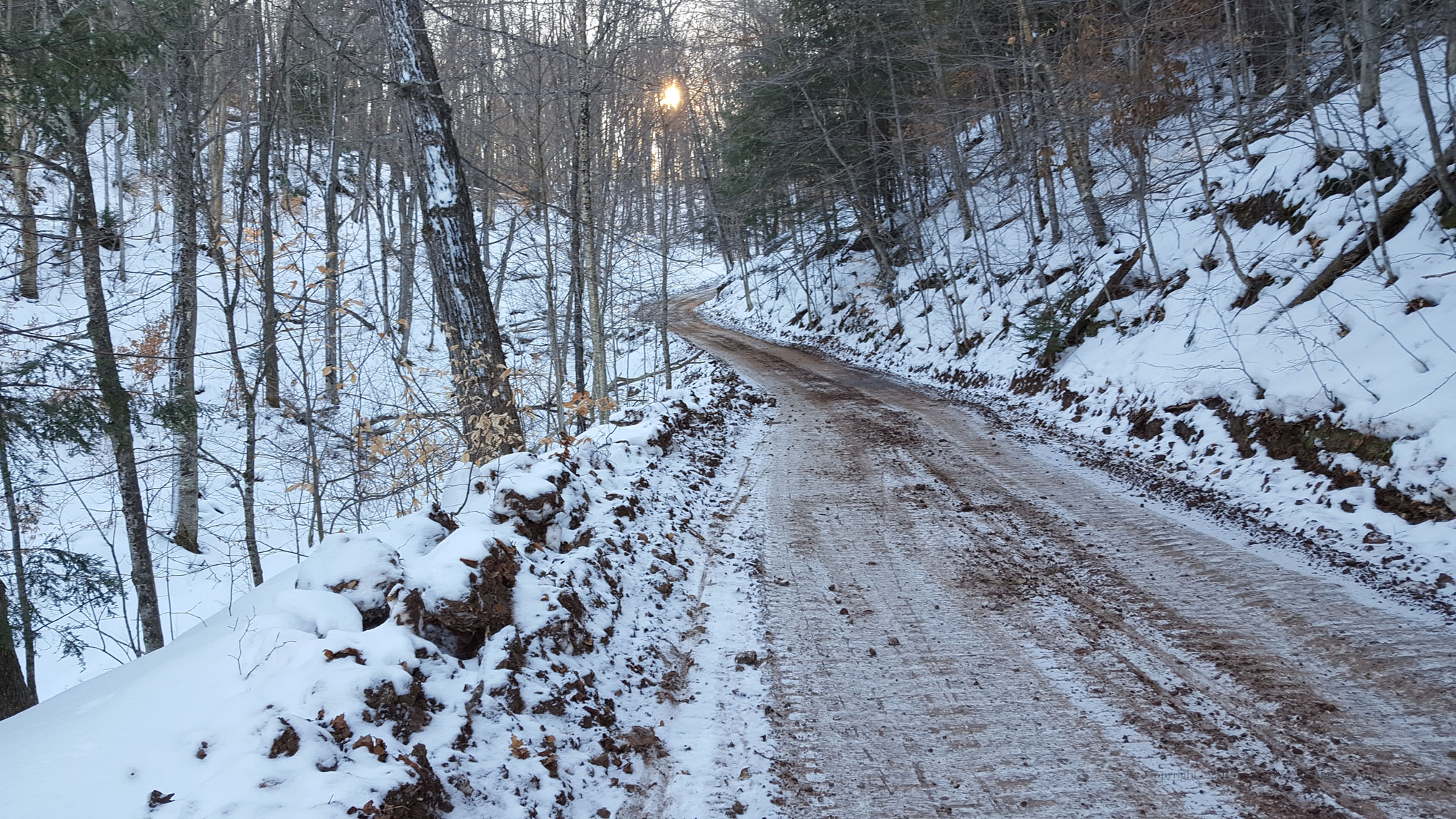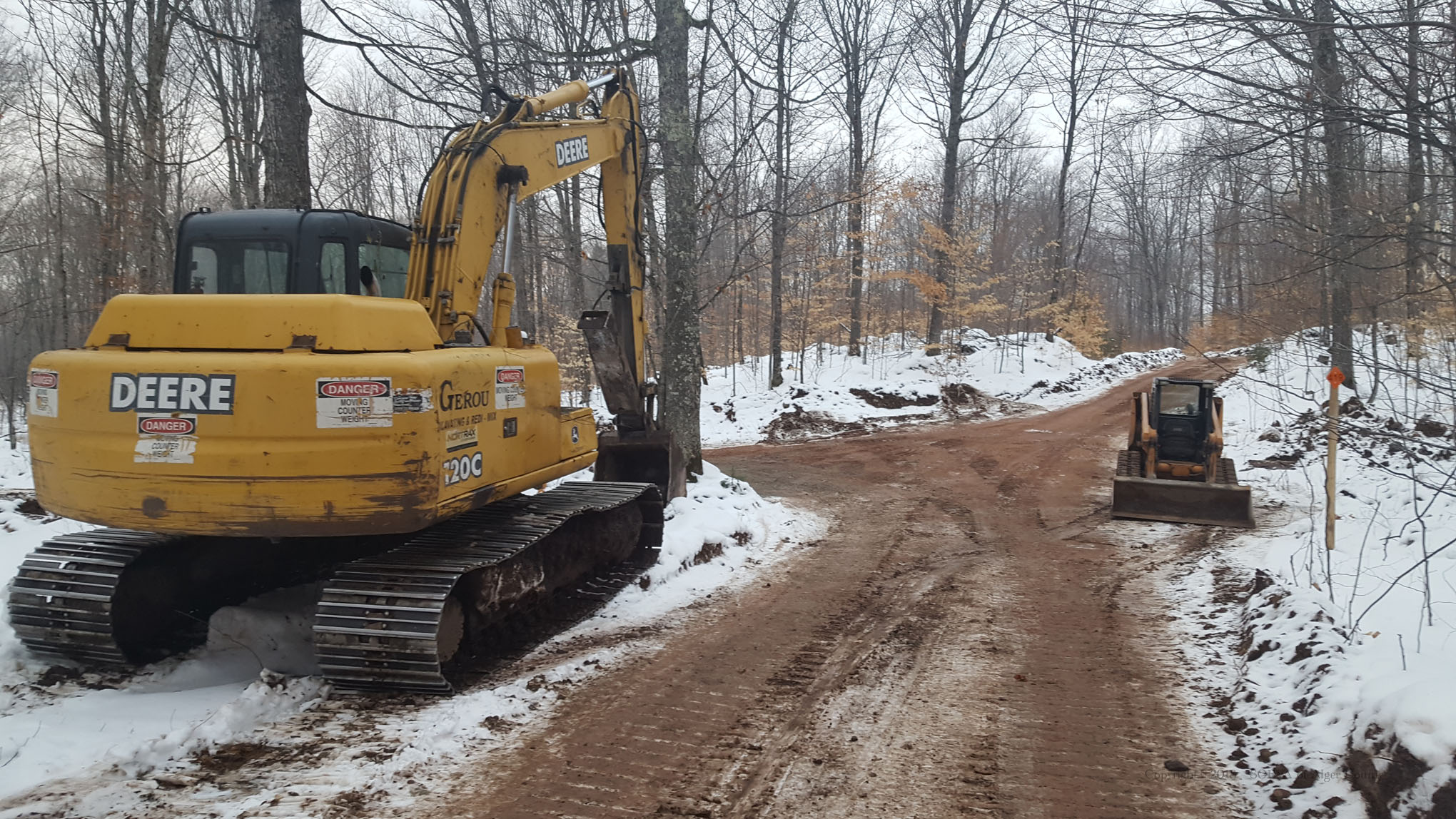 STAGE TWO OF A THREE YEAR FROG HOLLOW PROJECT COMPLETED
Mother nature has not let us start grooming yet but we have taken advantage of that. Working with our DNR Field Contact and our Contractor, Gerou Excavating, we were able to extend restoration work on Trail 419 just North of Munising. The infamous Frog Hollow with it's two miles of water crossings and bogs with bottomless waterholes has been crossed with a preliminary trail. This second year project had (11) culverts and (1) stone drainage pocket installed.  The entire length of this section was also bladed with a bulldozer so it is opened up and completely passable with a groomer, no more freezing in needed. This is a great example of your trail sticker money at work with $60,000 of Snowmobile Grant Funding put in over the last two years. We are very excited to get this trail opened up for the snowmobile season, all we need now is the SNOW!
For now,  to keep restoration moving forward, we will continue to have this section closed to wheeled vehicles for one more year. Next summers last stage of restoration is being done with our awarded 2019 Snowmobile Grant. This last phase involves (6) culverts, (4) stone drainage pockets, hardening up the last few soft spots and capping of 1 1/2 miles of the trail. When completed, Trail 419 will be one of our premier, year-round, multi-use trails through the hills of Munising. Now let the snow fall so you can check it out!
A LITTLE ABOUT FROG HOLLOW:
The section of Trail 419 starts at the end of Brook Street in Munising heading toward Christmas. This is a very scenic and steep, hilly section of trail with water crossings at each valley and a long section of low-land. In the summer the low-land area is very wet with a harder surface that, once broken through, is seemingly bottomless. Over the years holes have greatly increased in size from trucks and orv's traveling through. The past 9 years have had the Grizzly Pit at one location which regularly eats orv's, trucks and even a John Deere groomer and its recovery bulldozer at one time. We started restoration work 4 years ago with repairing a badly washed out hill on the West end and in 2017, we reconstructed a half mile section from there heading East. The costly part of restoration has been two miles of hilly trail that needs to be traveled to get material in and usually washed out before work begins. We were also seeing summer vehicle traffic (trucks and orv's) causing more damage than we were repairing during this time. In 2018 we closed the trail to wheeled vehicles with permission from the land owners. This was a good move because it allowed us to get where we are today with a passable snowmobile trail. Funding has been a challenge because it is private CFR land. We cannot use orv restoration grants on private land to repair the damage they are causing. We are in the process of presenting a trail proposal to the DNR making it a multi-use Snowmobile/ORV Trail though. The only hold-up right now is MDOT approval for running along the M-28 State Hwy. Once designated, orv grant funding will be available for improvements and maintenance on all of Trail 419.
(Slide show includes before and after pictures of some of the worst areas – enjoy!)
Stay tuned for updates with SORVA of Alger County, Trails and the 2018-19 Snowmobile Season.
Let's get this season moving – Sled Safe!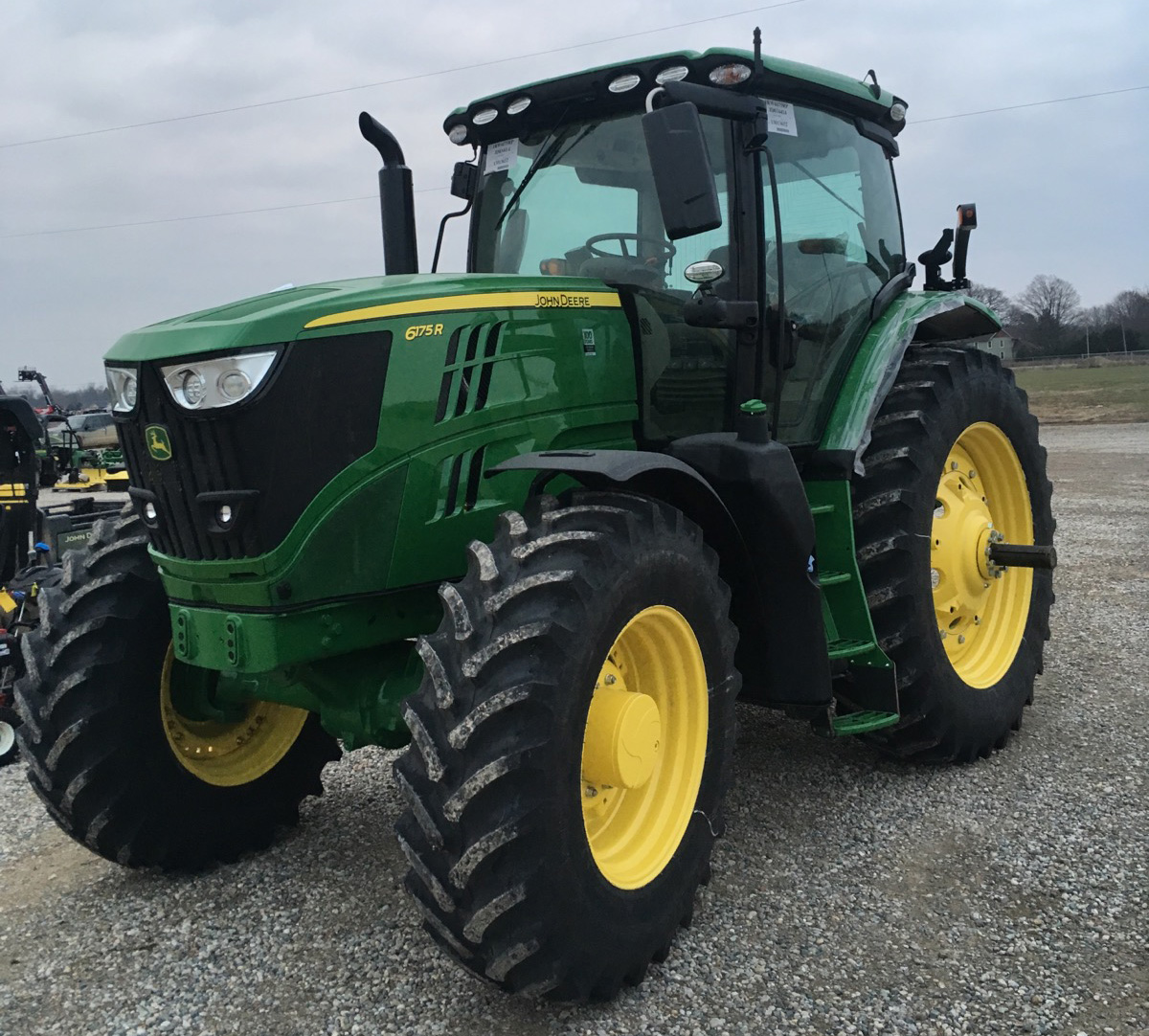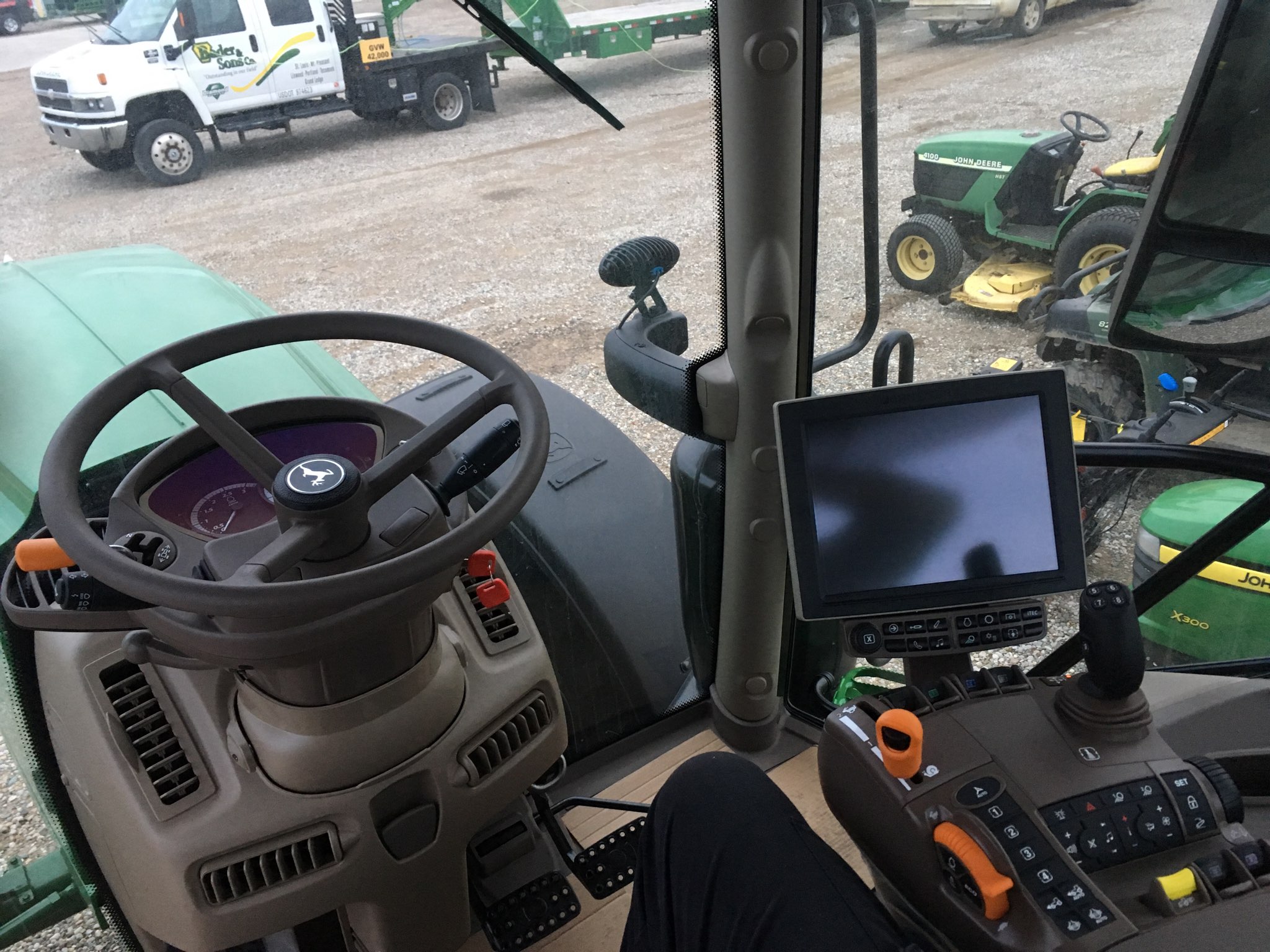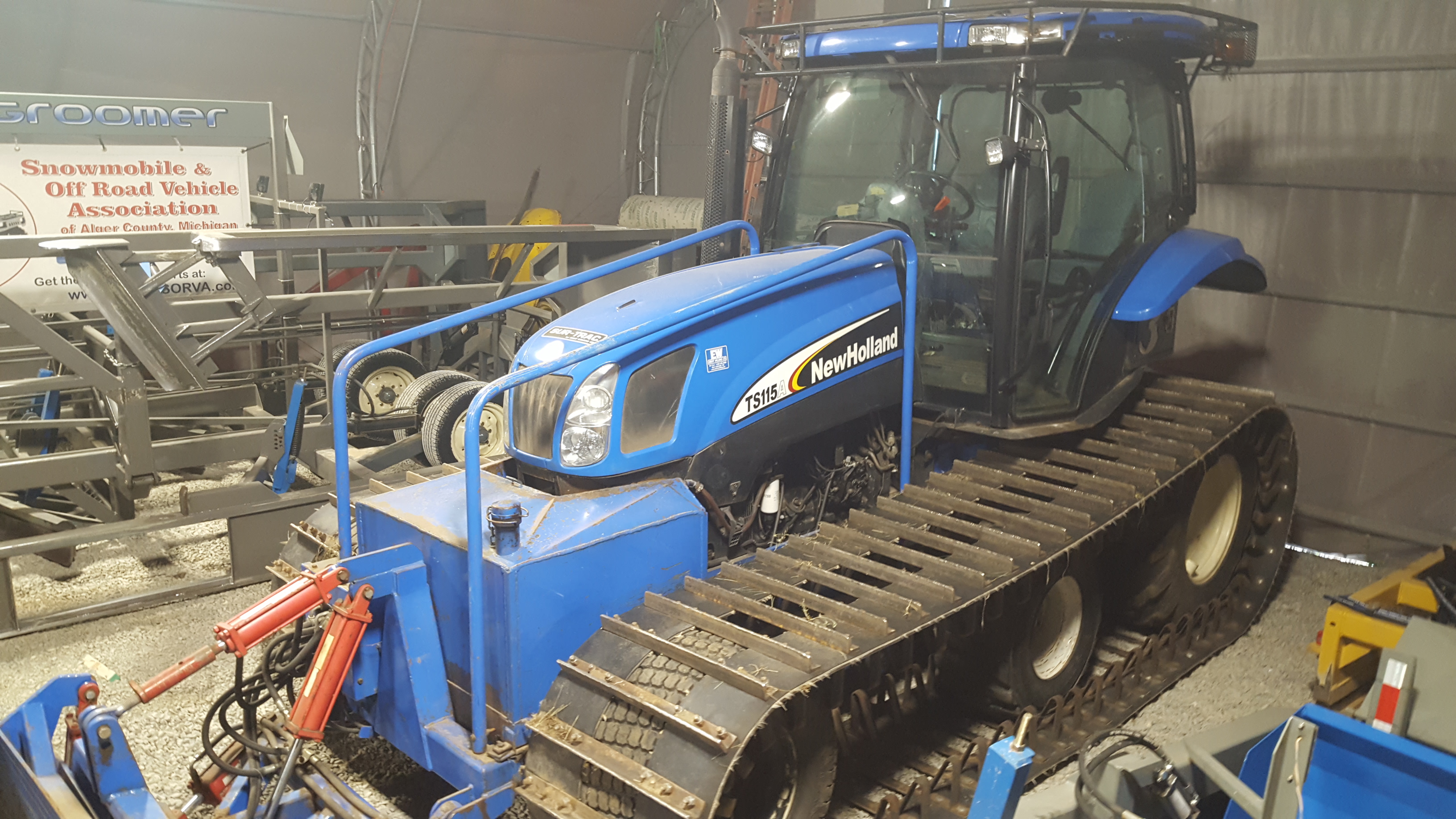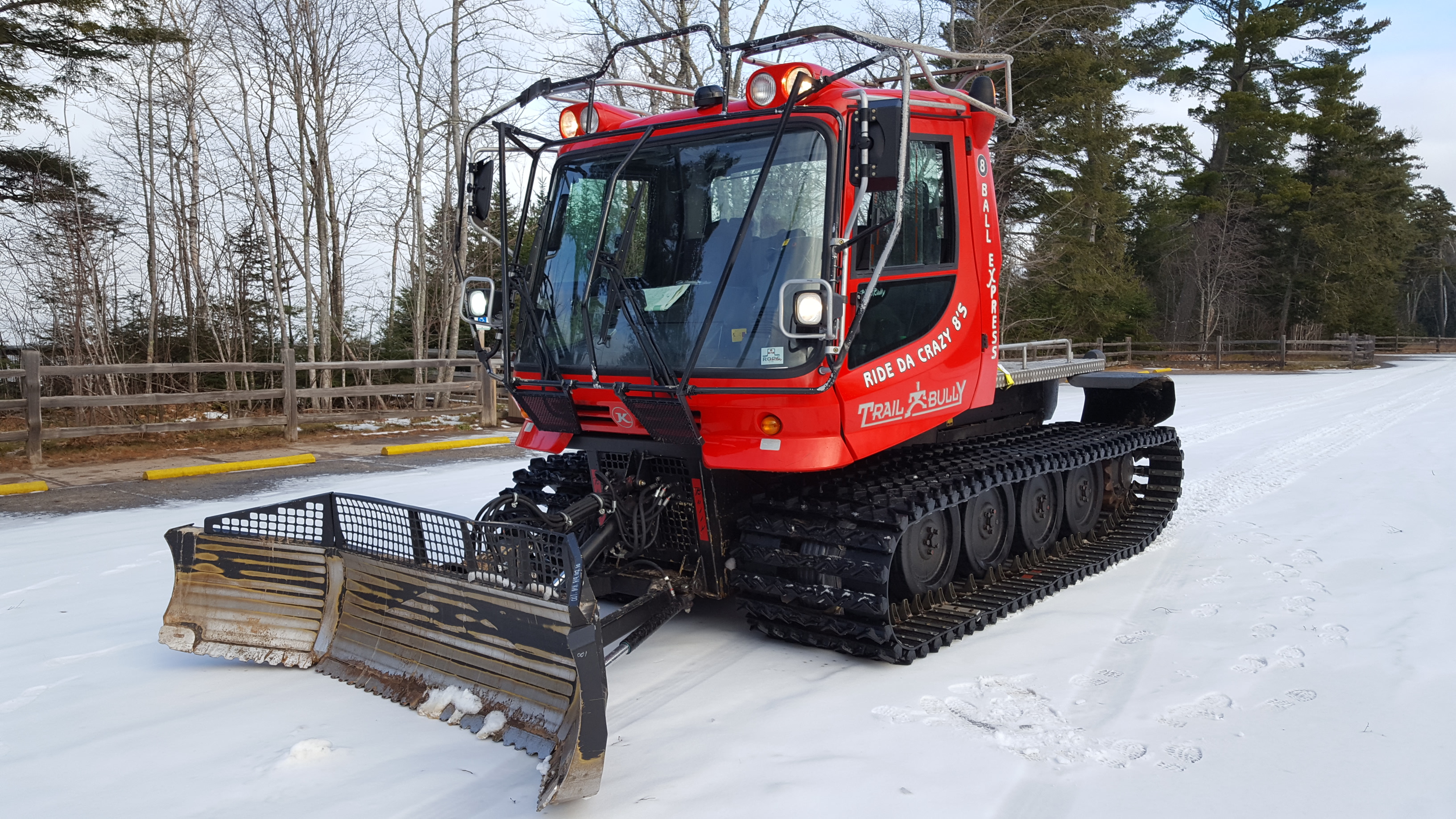 We have been trying to stay productive with Mother Nature still dragging her feet. Grooming has yet to start but we have been keeping busy prepping trails, finishing up projects and working on equipment.
NEW GROOMER TRACTOR – update
Exciting news – our NEW John Deere 6175R arrived at the dealer with pictures sent to us (in slide-show). Delivery is still expected early to mid January. Prepping will start but they are waiting for the Zuidberg Tracks and Front 3-point Blade Mount to arrive from the Netherlands. We can't wait to try her out!
CENTRAL U.P. STAND-BY GROOMER – update
After a successful drive of the Pisten Bully / Trail Bully from Grand Marais to the White Fawn Lodge, our mechanic Jacob was able to give it a preliminary inspection. The primary fix is putting the new tracks on. There is a long list of little things it needs along with a few hydraulic lines replaced but it will hopefully be usable in the next week or so, provided there are no surprises when he checks the drive pump pressures. Thanks again to George and the White Fawn Lodge for use of their garage facilities for the restoration.
The current New Holland Sur-Trac back-up machine was taken on a demo run with its soon to be new owners today. Followed by a trip to Baraga for a M.U.P.S.A. meeting and picking up of a spare set of tires and wheels for it. It has some understood welding to be done and a few minor repair items to address and she will be ready to go. She is expected to be leaving on a low-boy in a few weeks which will be good with the new machine coming. (back-up Bully and Sur-Trac are in slide-show)
LAST MINUTE PREPARATION AND PROJECTS
George has us all set up with off-road fuel and we are ready to go – as soon as snow falls again. With the delay in needed weather, our contractor on Trail 419 just North of Munising is wrapping up culvert installation in the dreaded Frog Hollow bog. The Grizzly Pit is no more so we will be able to open the trail up on time every year now. Operator Chris also used our Pisten Bully / Trail Bully to push and shape a few loads of gravel on Trail 419 between Munising and Wetmore. There was a large washout the width of a side-by-side ORV, too wide to run a groomer over and pack in.
SAW and MSA BOARD OF DIRECTORS MEETINGS IN MUNISING
Foggy's Steakhouse in Christmas was once again host for both the Snowmobile Advisory Workgroup meeting and Michigan Snowmobile Association Board of Directors meeting this past week. Both meetings went well with great attendance from across the state. From the state end in the SAW meeting there is good news with additional funding available for more equipment and trail infrastructure. With the MSA meeting, Alger SORVA mentioned the importance of a re-route of Trail 422 to Miners Castle off of H-58. Hopefully the needed bridge is considered with the additional funding available. We were also lucky enough to have our trails panned with enough snow for everyone to get out and enjoy an early season ride between the meetings.
Stay tuned for updates with SORVA of Alger County, Trails and the 2018-19 Snowmobile Season.
Let's get this season moving – Sled Safe!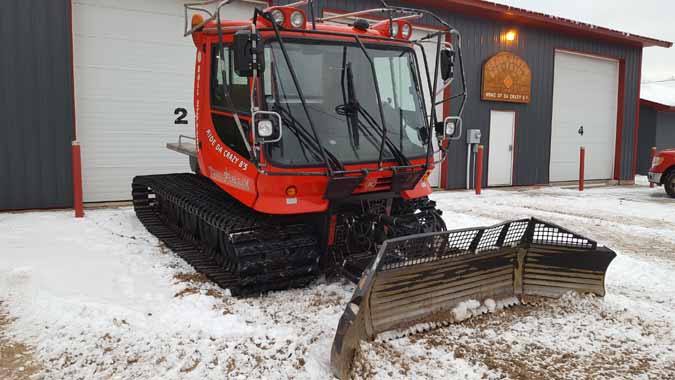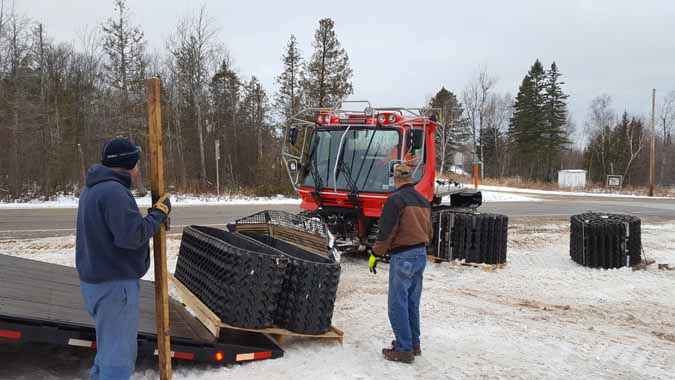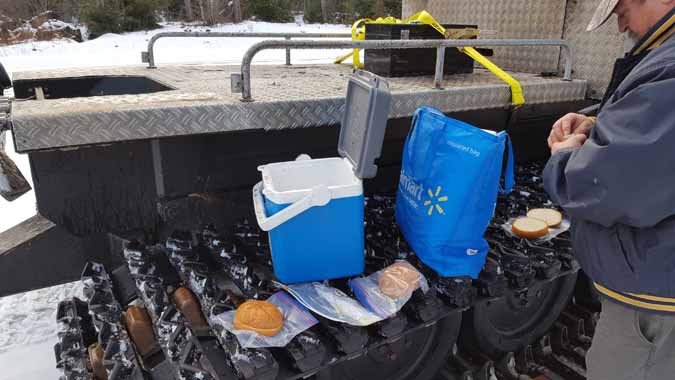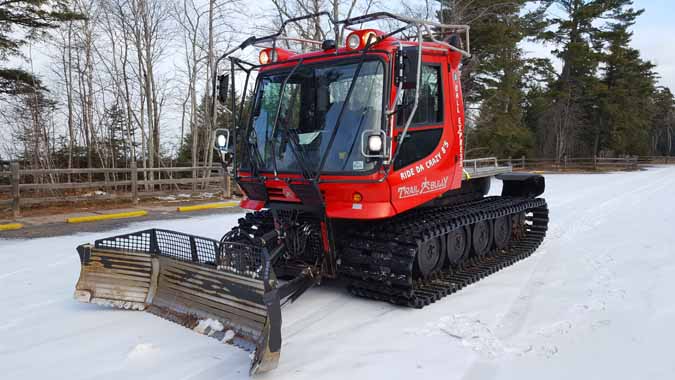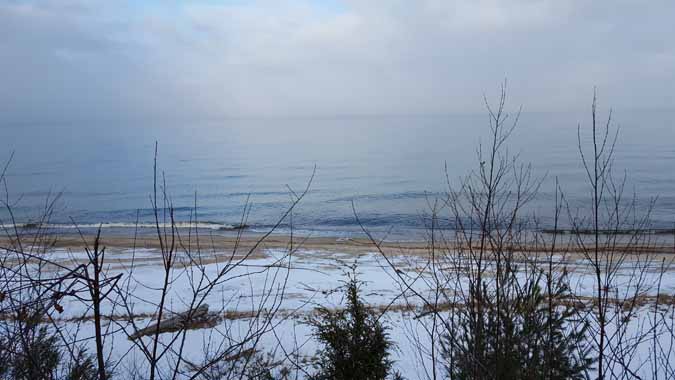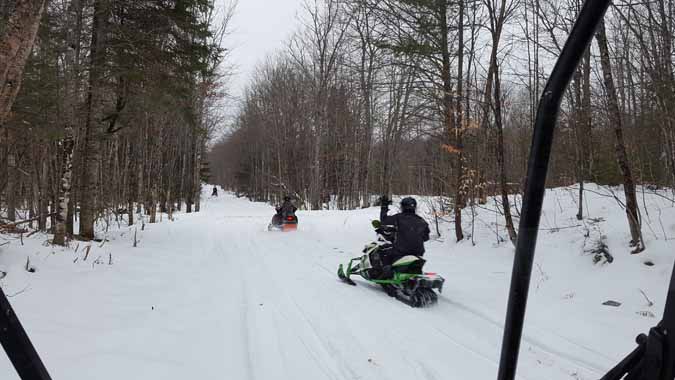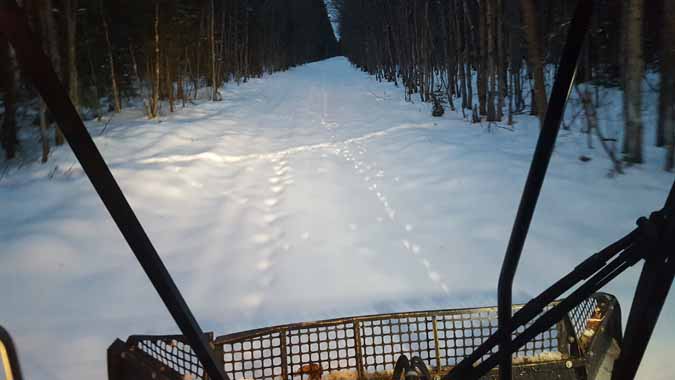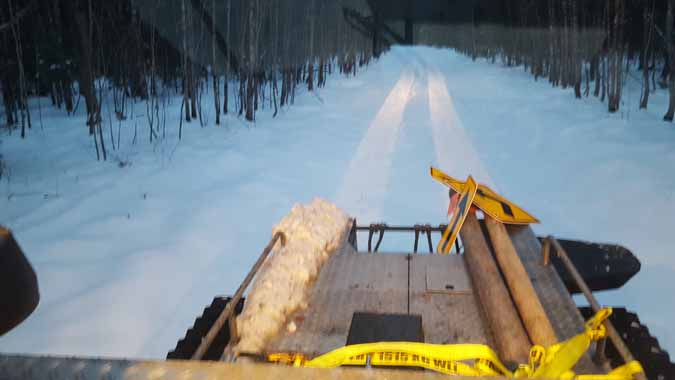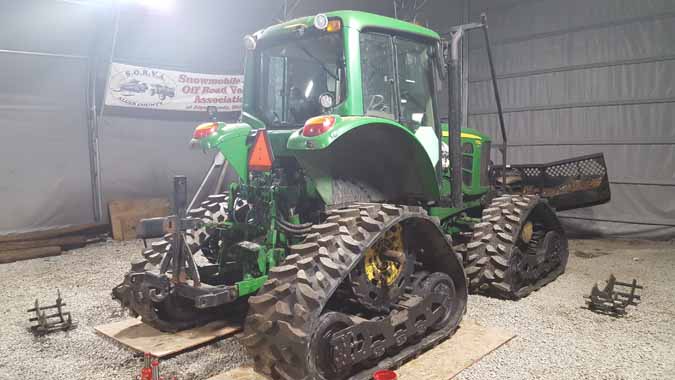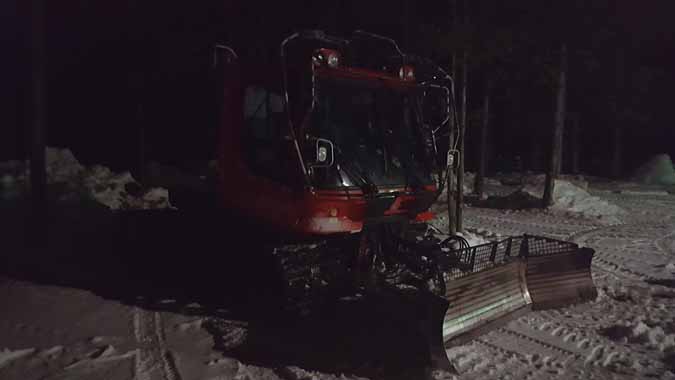 The snowmobile season started today with mother nature dragging her feet. Though we lack the snow and cannot be grooming, it was still another busy day of work.
TRAIL REPORT and NEWS GO LIVE
With the 2018 winter snowmobile season kicking off today (though mother nature has some catching up to do), we've got something else exciting kicking off today, too!
All of our trail reports are now easily accessible through our website! No more digging through Facebook posts – you'll be able to see the most recent report and any past reports as easily as the click of a button and we're so excited to share this new format with you all!
We hope this is an easier, more positive experience for you when checking our report both on your computer and on your phone. You'll be seeing some adjustments and additions to the page in the coming weeks, but for now it's up with the information you need for riding and we'd love to have your feedback on it.
Alger SORVA will continue to post trail report updates on facebook with a link to the actual website report. This will keep those of you using facebook for notice of updates the ability to do so.
Thanks to Melissa and Kimber for working so hard to get this ready in time for the snowmobile season.
Now let's have a great snowmobile season!
CENTRAL U.P. STAND-BY GROOMER
Three of us ran up to Grand Marais Sno-Trails to pick up an old Pisten Bully, its new tracks and new Tucker tracks. Grand Marais Sno-Trails received a new Pisten Bully this year and this one was to be traded-in. Working with the SAW Committee and DNR, Alger SORVA volunteered to bring it down and store it as a back-up machine for grooming clubs in the Central U.P.. Our Mechanic Jacob is going to do a full restoration so she's ready to work when needed. Don brought the tracks back with his truck while Keith & Tony drove the 64 miles in the Bully. It was a nice opening day trip with track-side lunch along Lake Superior. Saw a few sleds running the thin snow cover and signs of animal activity everywhere. We even took care of a few sign requirements on our trails while passing through. A Thank You to the crew with Grand Marais Sno-Trails for having everything ready to go so early and helping load the tracks. It's great to be working together with neighboring clubs. Also thanks to George and the White Fawn Lodge for use of their garage facilities for the restoration.
LAST MINUTE EQUIPMENT PREPARATION
As you may have seen, our old 7130R John Deere has been hard at work with grading and brushing right up to the start of the sledin' season. George and Sean spent Friday afternoon shuffling equipment, groomers and track components around getting the building ready for some last minute work. Our Mechanic Jacob spent all day with a helper getting the tracks back on the Deere and scheduled maintenance completed for it's start of the snow work. She does great with the pre-season work but working the snow is not her strong-point due to an improper transmission for grooming. She runs too slow when we need to gear down to handle heavy snow loads.
NEW GROOMER TRACTOR
We are excited to announce that our NEW John Deere 6175R was built this past week. Delivery is expected early to mid January. This new machine will have Zuidberg Tracks and Front 3-point Blade Mount, a Grouser Blade and Dubie Groomers 3-point Hitch. This machine will be stepping in for our smaller, tired 7130R and pulling the current Dubie Groomers drag used on that machine. This new machine will have our operations running much more efficiently with both time and fuel savings and improve the grooming results – we can't wait to try her out!
Stay tuned for updates with SORVA of Alger County, Trails and the 2018-19 Snowmobile Season.
Now let's hope mother nature gets this season moving soon – Sled Safe!